We're an affiliate
We hope you love the products we recommend! Just so you know, we may collect a share of sales or other compensation from the links on this page. Thank you if you use our links, we really appreciate it!
Choosing the best sprinkler for odd-shaped lawns and gardens can be tricky, as there are several considerations to consider before deciding.
For example:
Do you need a timer to avoid watering your plants and lawn when it is raining?
If so, what features should it have?
Also, how deep is your water source, and where is the closest main shut-off valve located?
Several variables should be considered when purchasing the best-suited sprinklers for your home's lawn and garden area. But with some simple considerations at hand, such as these, you'll also put together a list of pointers to look for when deciding on your perfect watering system, which will help reduce frustration and stress at checkout.
Getting all this information will ultimately help ensure that not only do you find the most reliable sprinkler(s) but also that you've considered all of the factors that could affect its performance – saving time and money in the long run!
Technically speaking, there are many sprinkler types out there, from droplet technology to rotary. However, looking at which one is right for your property will depend on your lawn type and layout and the proper usage. More than one type of sprinkler may be required to reach the extent of your lawn and garden.
Of course, when setting up an irrigation system, it's essential to make sure you're correctly watering all areas of your lawn to maintain the perfect green grass, beautiful flowers, and luscious plants people envy in their neighborhood.
Even for the heartiest lawns, some areas require more water than others because of hills or slopes. There are ways you can make sure all parts of your lawn receive an adequate amount of water for these challenging situations, including using pressure-regulating mist heads at spray zones and switching nozzles on hard-to-reach places. Whatever your garden shape or size may need, we'll be able to help you get it to look just right!
Odd-shaped areas are a bit trickier to get just right. We recommend using sprinkler heads that have adjustable pattern nozzles so you can choose the best one for your setup – sometimes this means having to add charge with a different spray radius to cover the whole plot.
Don't try to eliminate overspray; instead, reduce it as much as possible by ensuring that all tools are properly maintained. If you don't rush yourself, you should also prevent overspray from damaging fences or other surfaces.
---
Best Sprinkler For Odd-Shaped Lawns
The Best Overall Sprinkler
We've all been there. A seemingly trivial issue turns into a big drain on your day as you try to find a simple solution to a problem. In this case, the metal-bottom Melnor XT4200M lawn sprinkler is one of those rare types of products that not only gets the job done but does so with a short learning curve and consistently reliable performance.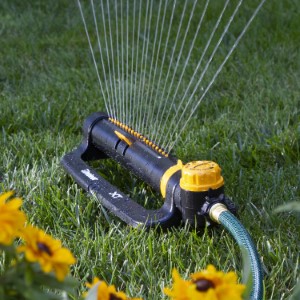 It is a matter of time before you start recommending this high-quality model to friends and family based on its superior balance between function and cost.
The Melnor XT4200M – Adjustable Arc Pattern Lawn Sprinkler delivers consistent coverage for larger lawns. It's easier to use than other models, with an easy dial system for changing the number of rotations per minute. It's sturdy and durable, which means you get long-lasting performance even over years of use.
However, if you have a smaller lawn or are just not sure what sprinkler will best fit your needs, please see our runner-up pick – the Melnor XT4250DT Tripod Lawn Sprinklers. This model received rave reviews from people that used it, just like our top pick. They seemed to enjoy using it due to its durability and cost-effective approach.
Light Construction Good Performance Sprinkler
This metal-bottom Melnor oscillating sprinkler covers much ground for the price. It's got good range, an adjustable arc, and is durable compared to its competition. The fact that it comes with a metal bottom is just another nice added touch.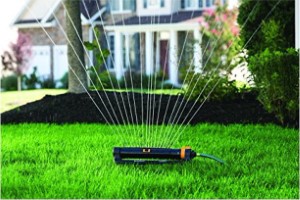 The XT4200 is nearly identical to our top pick, aside from a plastic base that's less stable than the metal base on the XT4200M. This model produced about an extra foot of maximum spray distance in our testing. We also saw more wind drift using the plastic base than the metal-base model. However, we could compensate by manipulating water flow and spray distance settings.
The XT4200 has proven itself for decades, so whether it's out of stock or you prefer to save money, this is an acceptable option when you can't find the XT4200M. But it's made entirely of plastic and doesn't hold up as long as our top pick.
The Best Coverage And Customization Sprinkler
The Gardena oscillating sprinkler can provide coverage more flexibly than our pick. However, it is not as straightforward or affordable and offers more customization options that the average homeowner doesn't require.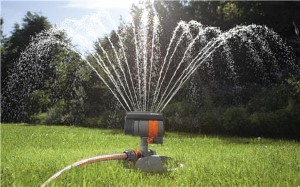 The Gardena Oscillating Sprinkler ZoomMaxx is our top pick. Still, it offers the most customizable spray patterns of any sprinkler we tested, covering only about half the area of our top choice.
If you have an irregular-shaped yard, it might be worth the extra cost. It has easy-to-use controls, and twin rows of nozzles provide consistent coverage. However, its hose adapter isn't ideal, and it has a surprising number of plastic parts.
The Best Cheap Lawn Sprinkler
If you're looking for a very comprehensive yet reliable sprinkler, then you should consider the Hozelock one. It does an excellent job of watering thanks to its 15 water jets that are put into motion by 40L/h. The best part? You don't need to fine-tune them much because they go off in all directions when it comes down to watering the lawn – so your lawn gets watered properly in no time at all.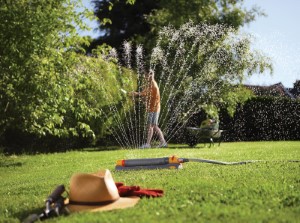 We liked this product for how sturdy it is when it comes down to keeping the status quo, even if your yard happens to be quite hilly or irregular in shape. The great news here is that it's effortless to use this particular sprinkler model because just about anybody can take it out of its packaging and use it almost immediately!
The Best Premium Lawn Sprinkler
Like pressure washers, Kärcher is known to be a pioneer when it comes to gardening tools. Take this sprinkler, for example. Unlike your average garden sprinkler, you see, this one comes with a full complement of features.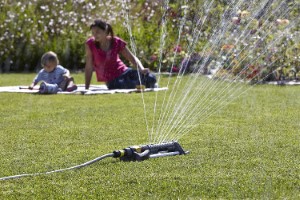 It's got 20 nozzles on board, and that means even coverage all around. It's not just that; while we appreciate the broad range, we also like how we can customize the pattern and turn off some of the nozzles for a narrower stream of water to certain water areas – like if we were targeting something in the middle for example!
Another thing to like about the Karcher Oscillating Sprinkler is its knob for adjusting water pressure. The Karcher sprinkler seems like another stroke of genius because I'm not using up too much of my energy standing at the tap, changing the coarseness of water pressure to ensure that I'm getting just what I need.
Now I can do everything from one spot without too much strain. A bonus with this sprinkler is a plastic SplashGuard that will rotate to cover up the jets nearest my face when I need to take extra measures to ensure that I'm not being struck by spray or feel any discomfort during use.
Basic And Affordable Oscillating Bar Sprinkler
This oscillating lawn bar sprinkler from Cost-Wise is the epitome of an essential, no-nonsense gardening tool. No installation is required! Plug it in and let it do its thing at home, in your garden (unheated greenhouses excluded).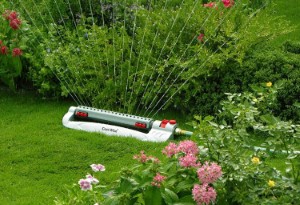 It's such a great deal right now that you could buy multiple units for the cost of some other rivals and still have some spare change to treat yourself to a medium-sized power tool that you can use with this bar lawn sprinkler.
One of the best features about the Bead Cone Sprinkler is that it directly switches on and off by increasing or decreasing water pressure, compared to most cheaper models, which need the water running for them to work.
A few additional details have to be considered when deciding on the best type of garden sprinkler for your needs. It looks very complex at first glance, but there are quite many different systems at work here.
The Cost-Wise sprinkler is easily apparent when considering some of the basic things about the way they work, such as how they are attached to your home's water pipeline or how they can be placed with each other so you can achieve adequate coverage.